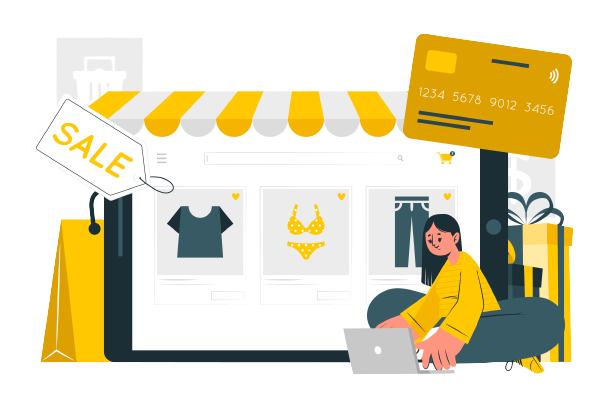 E-commerce Web Development Services in Houston
Ecommerce website design and development services facilitate the creation of a superior ecommerce experience in order to attract today's demanding consumers.


At YelloMonkey Labs, ecommerce developers provide customized storefronts and digital solutions for ecommerce back-office operations.
Every Ecommerce Business Model Benefits From These Solutions
Our team creates custom e-commerce websites that provide a seamless customer experience. We know how to build effective websites for any business model. Your website's design is critical for revenue and customer conversion. At Yellomonkey Labs, we create high-quality e-commerce sites that sell. Work with us to design a user-friendly website that generates revenue. Our digital marketing experts can also help increase your ROI with a unique design.
We provide customized e-commerce design services in Houston & strive for your satisfaction
The basis of any online retail business is a solid eCommerce website, and Yellomonkey Labs knows the necessity of leveraging the latest technologies to optimize profits. Our eCommerce solutions provide the best standard features and functionality while being adaptable and fully configurable. Our team can create totally bespoke eCommerce capabilities, link with ERP systems, collect data from many sources, and adapt a solution to your brand and eCommerce objectives. The combination of our eCommerce website design services and years of eCommerce experience positions us as the premier web design firm.
Increase Online Sales Across All Devices
With a responsive eCommerce website optimized for desktop, tablet, and mobile devices, you will increase eCommerce sales regardless of the device on which the customer is purchasing.
eCommerce Websites Developed for Speed
Utilizing cutting-edge technology and industry standards, your website will be blazingly fast, allowing users to jump from browsing to purchasing in within seconds!
Robust eCommerce Functions & Features
From fundamental eCommerce capabilities to advanced product selections, attributes, and filters, we have you covered. No demands for features or connectors are beyond our capabilities.
Need a custom eCommerce website? We offer customized solutions.
eCommerce websites have altered how customers shop online and how businesses sell and promote their products. If you are a large organization seeking to construct a personalized, well-branded eCommerce website, YML has the personnel and solutions to assist you in achieving your objectives. With limitless features and intricate functionality, we push the boundaries of eCommerce website design to bring new concepts to life. Your project will be handled professionally and creatively from the initial consultation and brainstorming to its development and implementation.
Here is a collection of frequently asked questions about e-commerce websites
Do you offer custom e-commerce website design solutions?
Yes, Yellomonkey Labs provides entirely bespoke eCommerce web design services, which means that we do not use templates or pre-made style guides for your eCommerce site. We can utilize your brand standards and creative vision to design a one-of-a-kind website that reflects the personality of your business and eCommerce functionality requirements.
Do you offer SEO and conversion optimization services for eCommerce websites?
At YML, our SEO and eCommerce website optimization efforts aren't just about generating traffic; they're also about growing sales. Possessing an eCommerce website is the first step toward online success, but the real revenue drivers are SEO, paid search, and other channels. Our eCommerce search engine optimization (SEO) services ensure that visitors will be able to locate your website and products when they are seeking to make an online purchase. Our expertise enables us to create eCommerce websites that rank highly for both competitive and product-specific keywords.
What is the cost of an eCommerce website
Our bespoke eCommerce websites are priced according to each individual project. When determining cost for an eCommerce website, we examine your objectives, marketing requirements, design direction, and functionality. These variables allow us to estimate the cost and duration of your project.
Will my eCommerce website be mobile-friendly and compatible with all mobile devices?
Yellomonkey Labs is an industry pioneer in responsive web design and has utilized this technology for years. With mobile online sales on the rise, it is more crucial than ever to have a mobile-friendly eCommerce site. You will collaborate with your eCommerce designer to design both web/ desktop/ laptop and mobile eCommerce website user interfaces.
Why is it essential to have an eCommerce website in 2023?
With online retail sales exceeding $800 billion, it is imperative to sell your products online. While the majority of B2C companies have embarrassed eCommerce, B2B companies are gradually transitioning to online portals that allow their clients to purchase online. Customers want to be able to place orders online at any time, without having to speak with a salesperson.
Get Your eCommerce Website Design Estimate
Your eCommerce website's success is greatly dependent on the level of user involvement. Your website must have both great content and superior, user-friendly navigation to guide visitors through it.
Our team will respond to your inquiries and offer you with a comprehensive eCommerce scope, cost estimate, and project schedule.