Responsive Website Design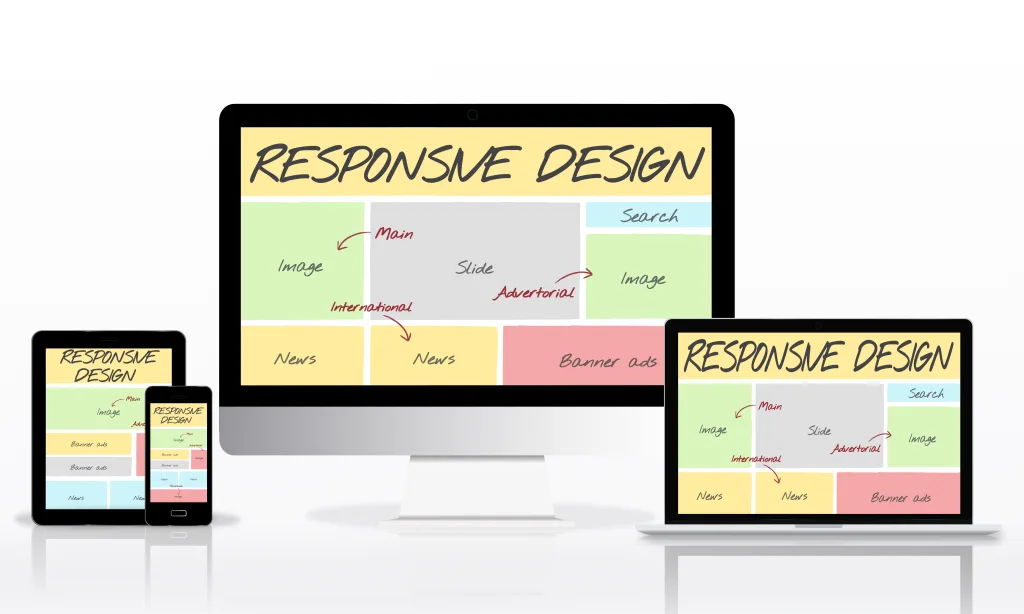 What will an engaging, responsive website do for your business?.
Our responsive website development service team can help you get there.
Our 6 step responsive web design process
Step 1: DISCOVERY
Initial consultation + Project analysis
We attempt to comprehend your business and the competitive environment. We transform your vision into a precise plan to set you apart from the competition, improve the visitor experience, and increase brand awareness.
Step 2: DESIGN
Visual design + Layout
Your website is much more than a pretty face. We work together to determine the optimal layout, functionality, and user interface for your organization and customers.
Step 3: TESTING
Data analysis + Quality Assurance
If your website were a vehicle, here is your 20-point inspection checklist. We verify that all of your website's features are operational and offering an optimal user experience across all devices, screen sizes, and browsers.
Now is the time to develop your online presence.
Everyone has a story to tell, and our top web design and development team wants your ideal client to hear yours. Whether you desire an online presence with a blog to discuss your professional exploits or a fully customized web design with unrivaled support services, our Houston website developers can help. Discover below how we collaborate with you to effectively bring your passion online.
Why should you hire our responsive web designers?
Yellomonkey labs is a leading Responsive Website Development company in Houston. We have a lot of experience with responsive web design services, such as making mobile websites that can change their layout based on the size of the screen. With a team of skilled designers, we can make a website that looks great and works well on any device, like a desktop, laptop, tablet, smartphone, etc. We help our clients set up fully responsive websites, whether they need a new design for their current site or not. We are trusted to be a professional responsive website development company that offers 360-degree responsive website design services because we have finished multiple projects successfully.
Advantages
Studies have shown that 57% of internet poeple won't recommend a business/brand with a bad website, and 85% of users seem to think that a mobile website should look as good as or better than a desktop website.
Responsive website designs make sure that users have the best experience possible by giving them a design that changes based on what they do and what they like. This means that designers don't have to make different designs for every new device that comes out on the market.
Designers don't have to spend as much time and effort making different sheets.

It means that back-end developers only have to make changes to one site. When everything has to go to the same place, the whole project is a lot easier.

It means that front-end developers have all the CSS codes in one place, so they don't have to make multiple changes to make a single change.
Disadvantages
These points aren't meant to make you think twice about using a responsive design for your website. Instead, they show how, like any other idea, it still has room for improvement.
They aren't so much problems as they are limitations that can be fixed with time and new technology. Here are some things that don't work well with responsive web design:
47% of all users expect it to take an average of 2 seconds to load. In this case, responsive web designs are not helpful because they don't speed up the time it takes for users to load the page.

Changing the size of images made for laptops and desktops so they can fit on the screens of tablets and smartphones uses up a lot of power.

Some mobile browsers don't work well with media queries. Developers are working to fix this problem, though, because responsive web design is becoming more and more popular.
Why Switch To A Responsive Web Design?
Now, let's look at how many people visit websites and how many of them do so from mobile devices. We'll understand that we need to make a layout that works on smaller screens.
The best case scenario would be if we had the budget, time and money to make separate sites that work well on mobile devices. But that's not what's happening. So, we have to go with the next best solution, which is a design that can change to fit different devices.
This is not the best way to meet the constantly changing needs of digital consumers, but it can make the user experience a lot better. It also helps designers and developers deal with coding by cutting down on the amount of coding they have to do.
With the help of responsive design, designers can now make custom solutions for more users on a wider range of devices. CSS can also be used to make web designs that work on all devices. With each custom design, you give your users a better experience, and when your users have a better experience, you get more traffic. So, both your designers and your business will benefit.
Here is a collection of frequently asked questions about Responsive Website Design​
How Important is Responsive Web Design?
Responsive web design makes the user's experience better by rearranging content to fit on a mobile screen. It's also a factor in how search engines rank websites. This means that search engines will rank websites that are mobile-friendly higher than sites that aren't, so that search engine users have a better experience. With the number of people who use smartphones going up every year, your business can't afford to skip responsive design.
Difference Between Web Development and Web Design?
Website/ Web Design is mostly about how a website looks and feels to people who visit it. This is done by using best practices for user-friendliness and graphic design. Web development is done behind the scenes on the backend of a website. It usually involves making software, building the structure of the website with code, and fixing bugs. Most web designers would help you with the web development side of making a business website.
How much does it cost to hire a web developer?
Web developers with a decent amount of experience usually charge between $75 and $180 per hour. This means that a developer will probably charge you between $5,000 and $10,000 to make a fully functional business website. These numbers will, of course, change based on the developer's skill level and the tasks that need to be done.
How much does it cost to hire a web designer?
Web designers usually charge between $60 and $80 per hour, depending on how much experience they have and how big the site is. Based on this estimate, you can expect a new business website to cost between $5,000 and $10,000. If you can't afford that, you could use a do-it-yourself website builder instead.
Website builders are online platforms that let you make websites without having to know how to code or pay a web designer thousands of dollars. There are ecommerce website builders, like Shopify, that are made for making online stores, and there are "generic" builders, like Wix, that are made for making other kinds of stores. Prices range from $6 to $299 per month for these platforms.